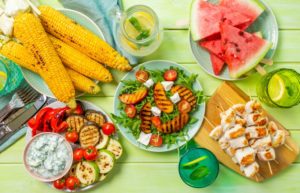 Summertime is full of delicious foods. Plus, with the worst of the COVID-19 pandemic behind us, the summer of 2021 — and especially the summer of 2022 — are bound to be full of opportunities for social eating. Unfortunately, if you have suffered a degree of tooth loss, you might not be able to enjoy the treats of the season as fully as you would like to. There is a solution! Many people qualify for dental implants in Bustleton. This form of tooth replacement is strong enough to stand up to virtually any food.
What Are Dental Implants?
Dental implants are prosthetic tooth roots. They bond with your jawbone and support restorations (artificial teeth). They are able to rebuild any number of missing teeth, and dental professionals around the world regard them as the gold standard in tooth replacement. The treatment process typically takes at least several months, so you might not be able to enjoy their full benefits this summer, but once your new teeth are firmly in place, you can begin to dig into all of your favorite treats.
What Can You Eat with Dental Implants?
Really, there are no "off limits" foods with dental implants. Unlike traditional dentures, they will not destabilize if you consume something that is relatively tough or hard. For example, you can bite into a whole apple, munch on raw celery, or even eat corn straight off the cob. You can also enjoy a variety of meats, including grilled chicken, juicy steaks, and mouthwatering ribs.
Plus, you can eat all of these foods without using special techniques or taking extra precautions. Simply dig in as your normally would!
Tips for Eating with Dental Implants
Of course, just like natural teeth, dental implants aren't totally invincible. Here are a few tips to protect them while you are enjoying all the deliciousness that summer has to offer:
Be careful with extremely hard foods. You should avoid biting down on ice, and be careful when you are eating bone-in meat. Chomping down too hard on such items might crack or break your restorations.
Go easy on the sugar. Things like ice cream, shaved ice, and sweetened iced tea should all be enjoyed in moderation. Sugar interacts with bacteria in your mouth and leads to plaque, which in turn can contribute to gum disease and other oral health problems.
Make oral hygiene a priority. Even though dental implants can't get cavities, the tissue around them is vulnerable to infection. Regular brushing and flossing are important.
Keep up with preventive care. Visiting your implant dentist in Northeast Philly is an important part of making sure that both your implants and your natural teeth stay healthy and strong.
Are you ready to enjoy all your favorite summertime goodies? Replacing your lost teeth with dental implants can help you enjoy the season to the full.
Meet the Practice
Our lead dentist, Dr. Karina Aloian, is proud to work alongside five other talented dental doctors. They cooperate to provide a broad range of services, including start to finish dental implant treatment. If you are curious about your tooth replacement options, our team would be pleased to talk with you. Contact us at 215-677-3904.