Implant Dentures – Philadelphia, PA
A More Stable Solution to Missing Teeth
Traditional dentures are quite common due to their affordability and effectiveness at rebuilding smiles. But that doesn't mean everyone prefers them. In fact, many struggle with dentures after enough use. After just a few years, they fail to stay inside the mouth properly and can even fall out as the mouth continues to change shape.
That's where implant dentures in Philadelphia come in. By opting for implant dentures, you can address many of the pitfalls that come with traditional denture solutions and dramatically improve your quality of life. Schedule an appointment with Dentex Dental Group today to learn if dental implants are right for you!
What are Implant Dentures?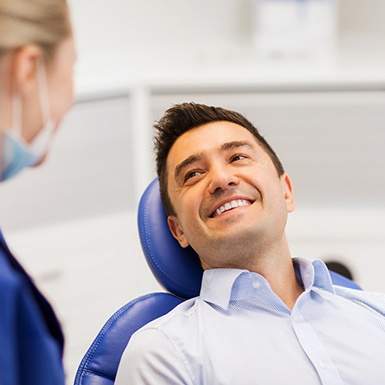 An implant denture refers to a denture that is designed to attach to dental implants. Dental implants are essentially titanium posts that are surgically placed inside of the jaw and given time to heal over several months. Once healed, they can hold a dedicated restoration much more effectively and remove many of the setbacks that accompany traditional dentures. Because they act as prosthetic roots, they feel more lifelike and natural, whether you're eating, drinking, smiling, speaking, or performing oral hygiene.
Fixed/Permanent Implant Dentures
Sometimes called a "hybrid prosthesis," fixed implant dentures are designed to stay in place indefinitely. That means if they needed to be removed, only a dentist would do so. In most cases, four to six implants are needed to hold an implant denture of this type. While oral hygiene can be much easier with this option, you'll need a sufficient amount of jawbone tissue to complete treatment.
Removable Implant Dentures
A removable option is meant to be taken out as needed for day-to-day cleaning. They attach to dental implants equipped with clips or ball sockets and generally require only two to five surgically placed posts. This means patients with less available jawbone density could be eligible for this option.
The Implant Denture Procedure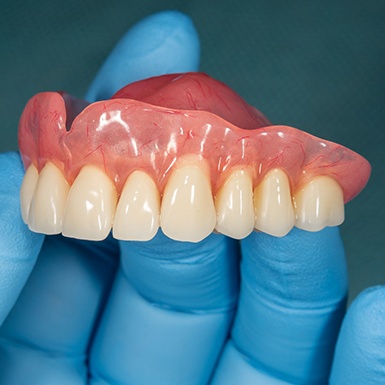 Our office places dental implants entirely in-house, making your tooth replacement process far more convenient. Dental implant treatment consists of four main stages. This includes the initial consultation to discuss your eligibility, needs and preferences, the surgical placement of the implants, the healing and osseointegration, and the placement of the denture. While receiving dental implants does take longer than a traditional denture, it's worth it to most because of the many benefits implant dentures offer.
Am I a Candidate for Implant Dentures?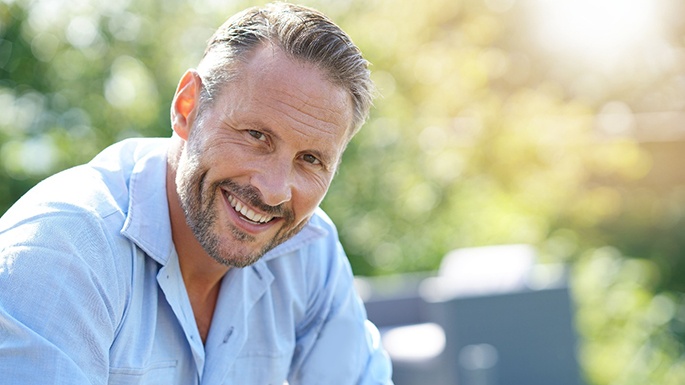 While more people are eligible for dental implants than ever, there are a few requirements you'll need to meet before we can recommend them:
Good overall health (it's a good idea to speak with your general practitioner and confirm you can complete minor surgery without any issue)
Good oral health (any gum disease, tooth decay, or other dental problems will need to be addressed before completing oral surgery)
Sufficient jawbone density (we'll confirm if you can receive removable implant dentures as an alternative)
Benefits of Combining Dentures & Dental Implants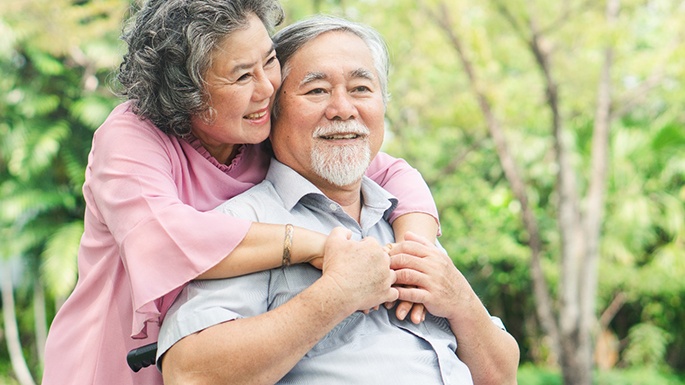 Some of the most notable benefits of implant dentures include:
The ability to eat the foods you want with ease
No more shifting or slipping dentures
A more natural-looking smile
Reduced facial sagging and hollowing of the cheeks
No need for denture adhesive
A more permanent solution to tooth loss that can last for several decades